Texas Border and Mexico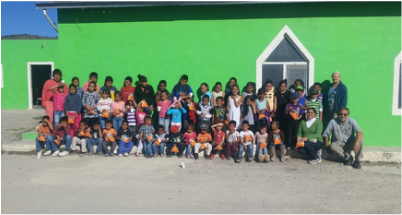 This was at the Lutheran church in La Boca, Mexico when we visited recently. They were in their fourth week of a six week bible study event for all the kids in their village. They are determined to raise up a new generation of Christians in their small rural community.

---
We shared donated quilts in Mexico Children's feeding program in El Cenezo, TX. Gardens supply fresh veggies .



Most people are not aware of the thriving opportunity for missions that is available along both sides of the Texas/Mexico border. This area covers over half of our southern U.S. border. New Christians, and many disillusioned seasoned ones, are discovering the grace that Jesus offers. Established congregations and missions have also developed many outreach programs addressing health, education, and family issues in their communities. Women have formed sewing groups to sew for their families and provide extra income for their families. They are an inspiration and do not let profound poverty and their daily challenges deter their call to mission. They are humble, eager to share God's love, and we can learn much from them.

Immediate Needs: Feeding programs for children and help in addressing the lack of ample nutritious food experienced by many families is an important focus at this donations of food and funds to help sustain desperately needed feeding programs are greatly appreciated and are critical to their survival. A van is needed to provide transportation of children to school and provide other outreach services in La Boca, Mexico. To enter Mexico this van cannot be over 10 years old.




Contact us at mission@childoutreachintl.org or call Wanda at 806-676-0643 Child Outreach International 3316 Hummingbird Ln., Robstown,TX. 78380